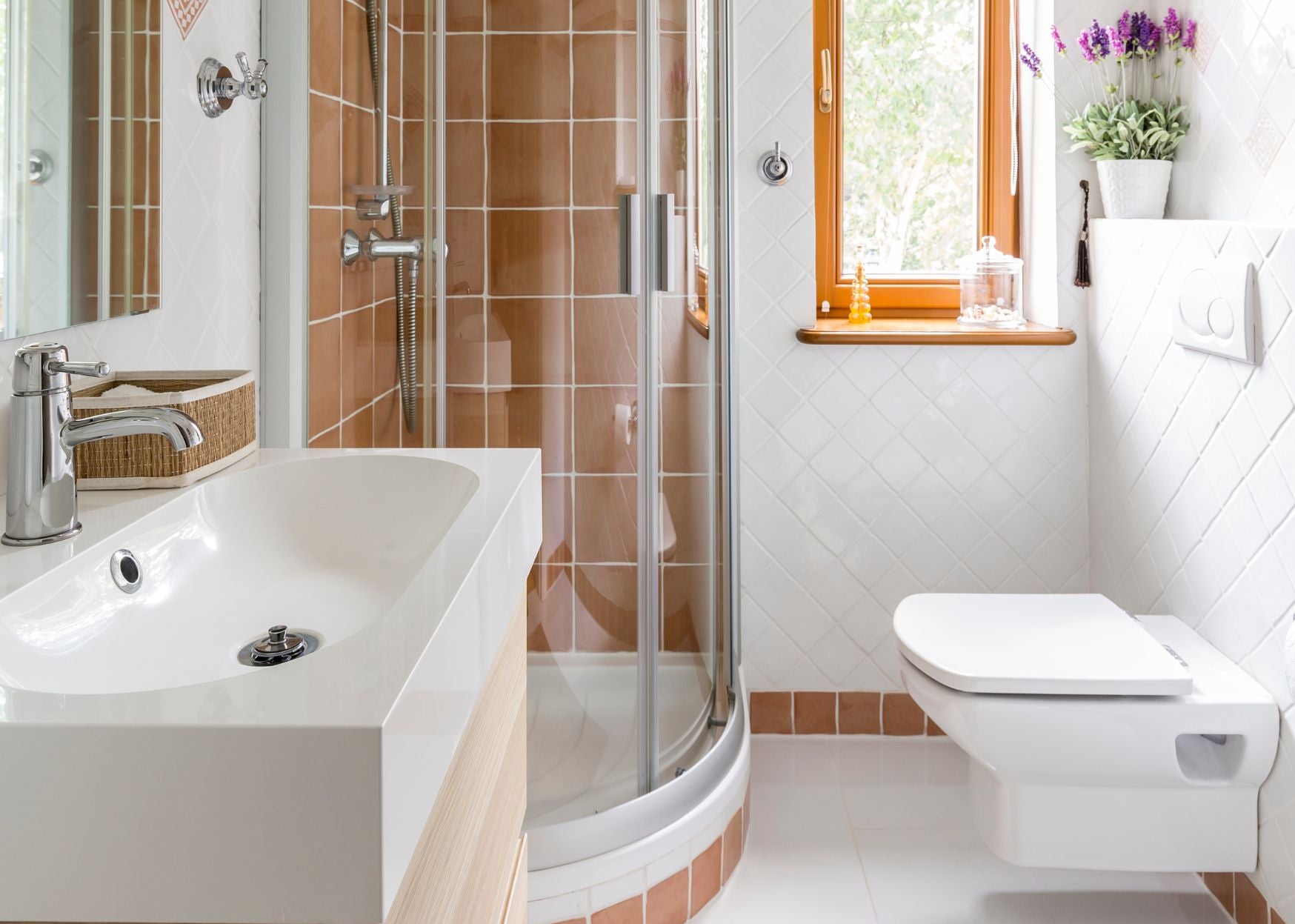 5 Reasons to go for a Wall-Mounted Toilet
18 August, 2022
by Initial Tiles
You may have seen wall-mounted toilets in restaurants, bars and public washrooms as they have become very popular. Nowadays, due to their popularity, people have started switching to wall-mounted toilets for their homes too, after learning what benefits it can offer and how stylish it looks.
You may have this question: why is a wall-mounted toilet getting so popular? In this article, we have highlighted five reasons why you should choose a wall hung toilet. Let's see first what a wall-mounted toilet exactly is.
What is a wall hung toilet?
A wall hung, or a wall-mounted toilet is a toilet system installed on the wall. The bowl is mounted above the floor with the help of a support frame hidden in the wall. The frame also supports the cistern, which is also fixed behind the wall. All that is visible to you in this whole system is the flush plate that activates the cistern and the WC (water closet).
Five reasons to choose wall hung toilets
Initial Tiles & Bathware has curated a list below, highlighting the five major reasons to choose wall hung toilets for your new home or when you think of renovating your current home. These reasons will surely help you make a decision. 
1. Practical Installation
One of the reasons to consider is regarding installation. You can install the wall hung toilet at a custom height according to your requirement. It is of advantage if you are someone with reduced mobility. A wall hung toilet will increase your comfort and minimise the risk of falling. Moreover, it is simple to install. 
The fact that you can install a wall-mounted toilet at a custom height is a significant advantage that regular floor-mount toilets don't offer. As there are now height-adjustable tables, chairs and kitchen counters available, in a similar way, these toilets make life more comfortable and more manageable by not limiting us to a standard height.
2. Space Saver
Wall-mounted toilets are space-efficient due to their design and the way they are installed. However, they are not smaller. The first thing you will notice is that the water tank is not visible as it is hidden behind the wall and offers several advantages. The first advantage is that there is more space, and the bathroom looks cleaner. Another advantage is that there is less noise when the tank is refilling. 
Also, the toilet bowl is attached to the wall. So, this helps save extra space. Moreover, it also saves space if you have a small bathroom or space, making the area feel bigger. Compact wall hung toilets are also available, which fit flawlessly in a cloakroom and do not take much space.
3. Stylish Design
The wall-hung toilet has undoubtedly the most stylish and sophisticated yet functional design. Its clean shapes, built-in tank, and various designs and colours explain its desirability. Wall-hung toilets are available in numerous shapes, from rounded to square – with options for all project types and budgets. 
Moreover, the aesthetic appeal of this toilet is partly because its functional part is not visible. Only the flush button and toilet bowl are visible, giving your bathroom a very minimal and modern look too.
The primary advantage of the mounted WC is its design. Wall hung toilets are built to last. Also, you don't need to worry about giving up on stability for the design since it supports a few hundred kilograms, which is nearly equal to the weight of a full-grown polar bear. 
You will like how clean and simple this system is. Wall-hung toilets are elegant yet modern. They are a great upgrade to the traditional bathrooms. 
4. Easy Maintenance 
As the bowl is hung above the floor, the area below is open, making it easier and quicker to clean. Unlike back-to-wall and close-coupled toilets, you can clean the floor without much effort, leaving no spots of dust and dirt. Specifically, it doesn't have hard-to-reach crannies and nooks where dust and dirt can accumulate. Moreover, there's no visible tank, so there is one less feature that requires cleaning regularly.
Wall hung toilets ensure to offer you the best user experience. Rimless wall hung toilets are also available, providing less space for bacteria to collect. It also makes wall hung toilets the suitable choice for workplaces and hotel lobby washrooms.
Once installed properly, maintenance of the hidden cistern is seldom required. Nevertheless, you can reach the cistern through the flush plate if maintenance is needed, ensuring hassle-free specification. So you need not worry about breaking down the entire wall to solve a problem.
5. Water-Saving and Less Noise
Last but not the least, a wall-mounted toilet is very popular for its environment-friendly aspect as it helps to save water. Several hidden cisterns come with an adjustable flush volume, allowing you to choose how much water you want to use. 
In addition, opting for a wall-mounted toilet is an excellent way to reduce sanitary sound in the washroom. Raising the toilet above the ground prevents noise from travelling from the toilet bowl to the floor.
In conclusion, the reasons mentioned above are enough for you to go for a wall hung toilet. Considering its practical installation, easy maintenance, stylish design, and space and water-saving capabilities, you may not want to give a second thought to wall-mounted toilets next time while renovating your bathroom.
If you are building or renovating your house in Sydney, surely check out our amazing collection of quality foreign floor tiles available from Initial Tiles & Bathware. We are the state's fastest growing speciality distributor and direct importer of foreign tiles. We offer unbelievably low-price deals for the best foreign tiles for use in bathrooms, floors, kitchens, walls, and outdoor use. 
As tiles are universally popular throughout Sydney, Initial Tiles & Bathware is constantly upgrading service to meet the expectations and requirements by offering the best quality tiles to Western Sydney. Contact us today to check out our indoor and outdoor tiles to find the best ones for your project and also that suits your budget.