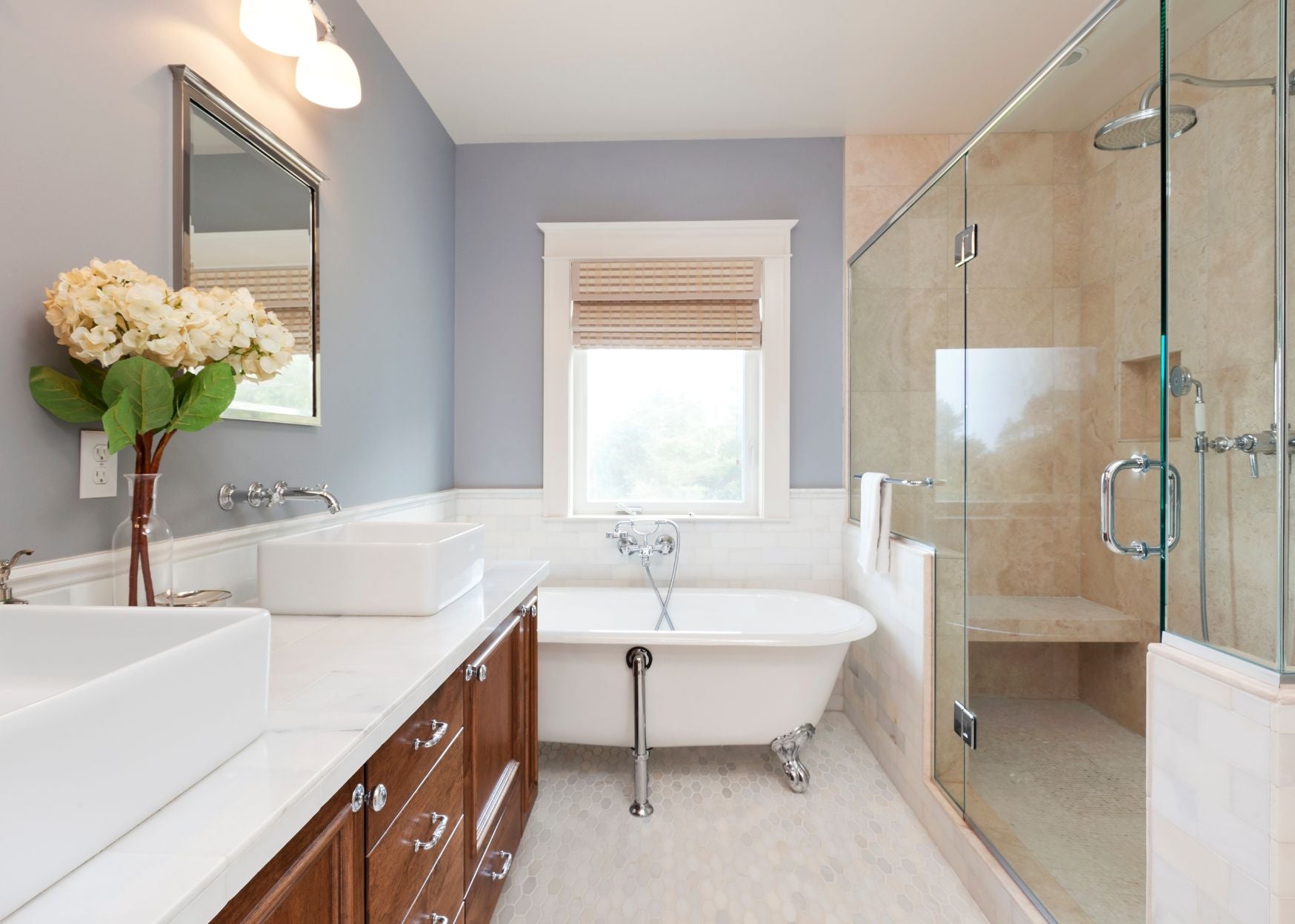 How to Avoid Common Bathroom Renovation Mistakes
03 January, 2023
by Initial Tiles
It can be difficult and stressful to renovate a bathroom. Still, with the proper planning and preparation, you can complete the project successfully and have a stunning and practical bathroom. When remodelling the bathrooms, people frequently need to catch up at their own pace, which can cause delays, additional expenses, and a subpar finish overall. Please educate yourself on typical bathroom renovation blunders like not choosing suitable bathroom floor tiles before trying to avoid them as much as possible to prevent these errors.
We'll discuss the most typical bathroom renovation errors and methods to avoid them so you can design the ideal bathroom for your house. This article will help to ensure that your bathroom renovation is successful.
Not Understanding Your Needs And Vision
It is natural to get carried away when there are so many themes to pick from, from dramatic and moody to coastal and modern, and create an underwhelming or overbearing space. Furthermore, combining an excessive number of styles or contrasting ones can make an area appear cluttered.
What's worse is designing the bathroom in a way that disrupts the entire flow of the room, considering the rest of the house. Consequently, how will your chosen theme evoke the feeling you desire while enhancing the design and decor of your entire home?
For the best theme, understand your style! You can combine the ideas for style and details in a mood board or inspirational idea book. Start by selecting the primary detail that will define the mood of your bathroom, such as colour, fabric, or material like wood vanity. Then, add in the elements that complement it.
You can modify your vision before starting the project or purchasing using this more curated approach. Working with a qualified bathroom designer will be even better because you'll have a unique style reference manual ready to share!
Not Keeping Track Of The Budget
Before you begin remodelling, you must clearly understand the cost of creating your ideal bathroom. Even though budgeting is challenging, it's an essential step to get the most value for your money. Sadly, many homeowners start bathroom renovation projects without carefully considering their budget, which often results in stressful and disappointing results. Not all cheap floor tiles are of poor quality; hence, choosing suitable tiles while keeping track of the budget is crucial for bathroom renovation.
With so many factors to consider right away, hiring a bathroom renovation expert to help you plan the renovation from beginning to end is the best way to stay within your budget. An expert will consider your budget and wants and needs to ensure that you achieve a fantastic result while staying within your budget.
Inability To Create A Cohesive Appearance
The secret to giving your bathroom a restful, relaxing atmosphere is to design the space so that everything flows naturally and cohesively. Accordingly, the size of the room, the textures, colours, furnishings like an in-wall cistern, lighting, and finishes used in the space should be complementary. Renovation workers with little experience struggle to successfully layer texture, colour, shape, and pattern to add visual interest to a space.
If you need more room, try to maximise your floor space to create a clutter-free space. Similarly, an ample space lacking a well-planned layout can feel empty and uninspiring, with all the fixtures arranged around the room's perimeter and an empty area in the centre.
Only some things need to match to create a cohesive appearance. Let your personality shine in your bathroom renovation by adding a little intrigue to the overall picture. Your design decisions must give the space interest and depth, even if you only work on the bathroom and not the entire house.
To ensure everything flows, think about using variations of the same style elements existing throughout your home rather than attempting to reinvent the wheel.
Alternatively, you can simplify things by selecting a striking focal point and using it to establish the mood for the rest of the space. Determine what you love and let your design evolve by regularly changing items and bringing in new things rather than decorating all at once to make your bathroom scheme extra special.
Taking Shortcuts While Designing
It's simple to get caught up in the excitement of your long-planned bathroom renovation and need to consider the potential practicalities of all your ideas fully. A dream bathroom can become a nightmare if you rush the design process, no matter how much planning or budgeting you have done. 
You must be ready for the many unique factors affecting a design project as you plan your bathroom renovation. You'll have a better chance of being satisfied with the results if you carefully consider each step. To ensure a workable remodel schedule, consider installer availability and delivery times once you have decided on your materials.
To ensure accurately measured and put-together renovations, interior design has several stages. To avoid numerous headaches, replacements, and repairs in the future, strategise a plan when designing a bathroom and allow plenty of time to follow the correct procedures.
When it comes to the planning stages of purchasing and installing bathroom floor tiles, be sure to have precise square footage counts (including overage) and measurements to confirm how much you need and an understanding of how it fits into your budget. Verify whether the supplies and quantities you'll need are available.
Not Taking Professional Help
A significant bathroom remodelling regret can result from trying to handle a task that's best left to a professional unless you're an experienced bathroom renovator. As we already mentioned, bathroom remodelling is a complex task, so it may be more affordable to consult a professional renovation team in the long run. At the same time, DIYing your bathroom makeover will save you a few dollars. But having the expertise of a professional contractor or tile setter accompanied by a trade discount can help ensure the completion of the project is on schedule, within the allotted budget, and without needing a later redo.
Furthermore, even if you are sure of what you want, it is elementary to make mistakes in design when remodelling a bathroom on your own. One can easily attribute the failure of your bathroom renovation to various factors, including choosing fixtures like wood vanity and finishes without carefully weighing the benefits and drawbacks and selecting a layout that doesn't quite fit your family's lifestyle.
Sometimes all you need to create a practical, functional, aesthetically pleasing space is a professional interior designer's attention to detail, understanding of spatial planning, and knowledge of material selection. Today, many contractors primarily work on bathroom projects, and they can do a fantastic job of bringing your design ideas to life.
Conclusion
Therefore, if you believe that the time is apt to begin the bathroom renovation project and you want to steer clear of the errors we have covered here (and others), we advise working with professionals to turn your bathroom renovation goals into a reality in 2023.
Call us at 02 9623 0000 or visit the official INITIAL Tiles & Bathware website to schedule your free In-Home Consultation with an Interior Designer to discuss your bathroom renovation today. This consultation will kick off your renovation journey.