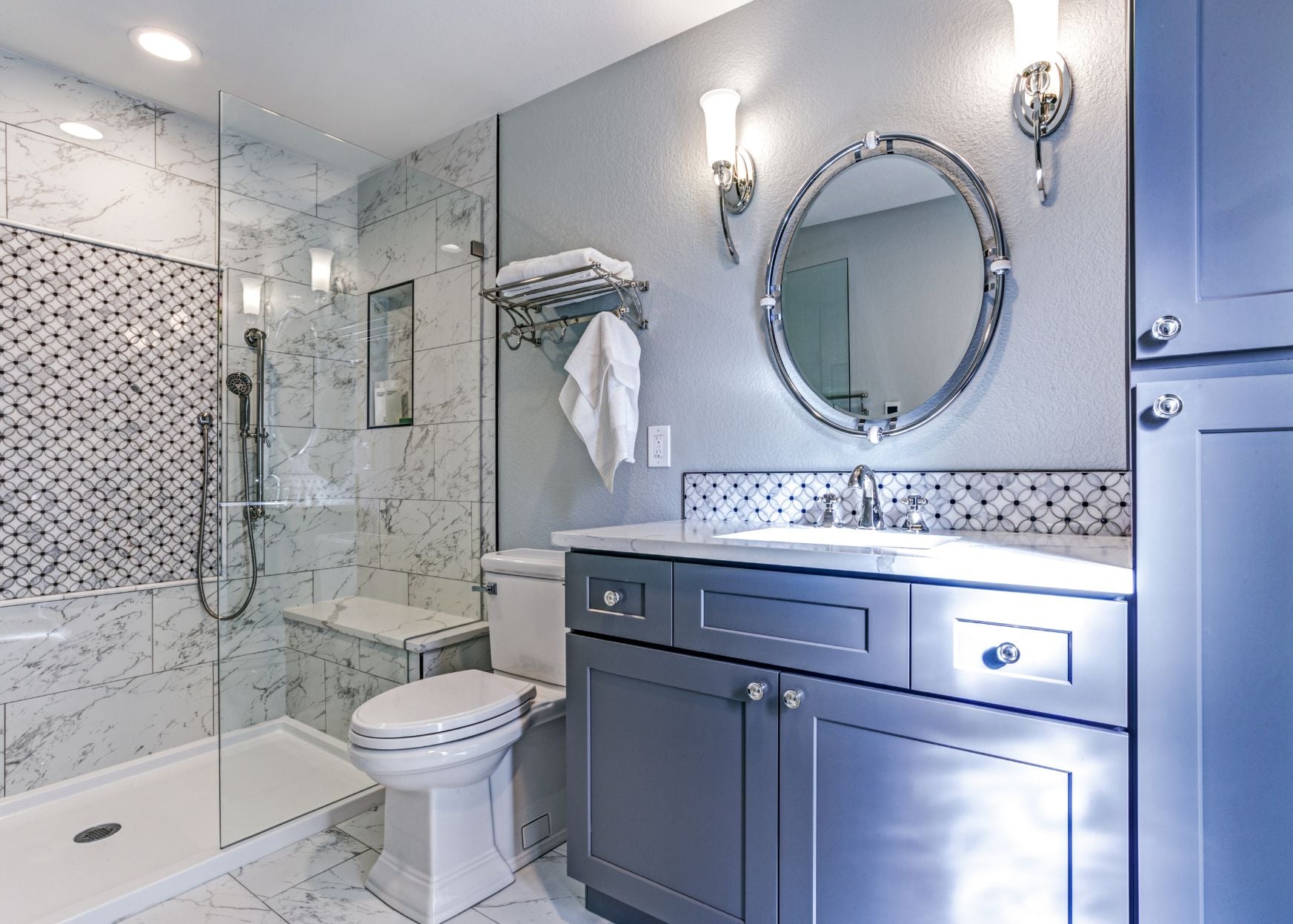 What Size Vanity Should You Have in My Bathroom?
17 February, 2023
by Initial Tiles
A vanity can completely transform the look of your bathroom. Vanities are a perfect blend of style and functionality. They add a lot of character to your bathroom. More than anything, they become an essential part of your morning routine. The time that everyone is in a rush to get ready and head out is the time when the vanity is used the most. Therefore, its size and how well it can accommodate your bathroom are important considerations. 
There is no such thing as the ideal size of vanity. It depends on multiple factors. 
The size of your vanity depends on the square footage area of the bathroom, the number of people who use that particular bathroom, even the shape of the bathroom plan and where existing facilities are located play a crucial role in deciding which size vanity you should consider. 
Another factor that many fail to consider is the style of bathroom vanity that they are going for. A classic vanity with large features cannot be in a smaller size as it will diminish the luxurious style and look odd.
The most crucial aspect of installing a vanity is that, in the end, it should add more functionality to the bathroom without making it look cluttered. Keeping all these things in mind, let's have a look at the different dimensions and who can opt for them.
The 30-inch size vanity
A 30-inch vanity is ideal for smaller-sized bathrooms. It is an ideal choice for utilising existing space so that it looks spacious. You can also opt for a 30-inch size vanity in bathrooms attached to the guest rooms or powder rooms. This unit can only be used for a single sink unit. Due to its compact size, the storage available in this option is limited. However, you can add top shelves to make slightly more storage space. Also, you can opt for a pedestal sink in this vanity, especially if there are kids in your house.
Pro tip: If you want to give a classy look to your bathroom vanity without making it obvious that there is less room, go for a pedestal-free ceramic sink with wall-mounted storage compartments above. This will add a unique wow factor to your bathroom and give it a very spacious look.
The 36-inch size Vanity
A 36-inch is great for you if you have a little more space to accommodate your vanity better. This gives extra room for storage, and you can add more compartments based on your daily needs. In this size, the double sink vanity is not possible as well. You can add a pedestal for your young ones to have better accessibility. 
This size variety has more space, giving more room for storage compartments. Therefore, you must only go for this size when your bathroom has enough space. Else it will cramp up your bathroom very easily.
Another important factor for the 36-inch vanity is that you must have an extra couple of inches of space to fit the countertop well. Usually, the countertop goes slightly beyond the vanity in width as well as in height. 
Pro tip: If you are looking for a different theme for this size vanity other than the classic white beige formal theme, go for the 60s or 70s style bathroom vanity. It will spice up your bathroom and add more functionality to your bathroom at the same time.
The 48-inch size Vanity
This is one of the most common bathroom vanity sizes used in Australia. This is the most versatile size in vanity units and can accommodate double sinks as well. Therefore, they are probably a great fit for a bigger family or if the bathroom is shared between two people. Most people opt for the double sink vanity if more than one person needs to use the area at the same time regularly.
The luxurious designs for bathroom vanities are a great way to style this bathroom. With more storage room, double sinks and added usability, this is the optimum choice for families.
One thing to keep in mind while installing the 48-inch size vanity and above in your bathroom is that even if your bathroom area is large, the placement of the toilet is a determining factor in installing your vanity. The distance between the toilet and the vanity must be at least 20 inches for hygiene reasons as well as space availability. Also, you must consider the placement of your towel railings, shower head, etc. They should not be in close proximity to each other as this will create a lack of space and make the bathroom space cramped. 
Pro tip: If you want to decide between a single sink and a double sink, consider what is more important to you, having more countertop space or a double tap for more people to use the bathroom simultaneously. Also, you must take into account the plumbing system. If you decide to have double sinks, your plumbing system must be able to accommodate that without compromising on the speed of the water faucet. 
The 62-inch size Vanity
A 62-inch size vanity can transform your bathroom from a plain simple look to a luxurious spa appearance. You can have a variety of deluxe themes to choose from. Not only that, the 62-inch vanity unit has added space for storage compartments and can easily support the double sink unit. It is perfect for married couples. 
Investing in a luxurious vanity can be an excellent place to begin your day. Many people love their bathrooms and take special care to maintain their vibe. If you are one of them, you have plenty of vanity choices to choose from.
Pro tip: The bigger your bathroom, the more neutral your colour palette should be. However, if you like a pop of colour, you can always keep the walls neutral and add a flare by choosing a different colour sink or countertop or some bathroom accessories to spice up the place.
The 72-inch size Vanity
A 72-inch vanity is ideal for your master bedroom attached to a large bathroom. If your bathroom is very spacious, keeping a lot of empty space would make it look incomplete. Therefore, in such scenarios, you can opt for a 72-inch double-sink vanity. Pair it with a beautiful countertop. You can add extra compartments for storage to store your skin care products and toiletries. Moreover, you can even opt for a potpourri basket that pairs well with your theme. It will be a treat to your eyes and olfactory senses. 
Keep in mind that even if your bathroom is spacious, the wrong alignment of the vanity compared to the rest of the area can easily make it cluttered and reduce its functionality drastically. Take proper measurements and keep ample space for walking from one section of the bathroom to another. 
Pro tip: Use lights around the mirror to give it more edge. It can also provide better lighting while applying makeup or getting ready.
In Conclusion, there is no one size fits all solution to bathroom vanity units. Every bathroom has a different layout and comes in different shapes and sizes. All you have to do is find the unit that suits your needs while simultaneously adding a splash of style.
Contact us
to learn more about vanity units now.