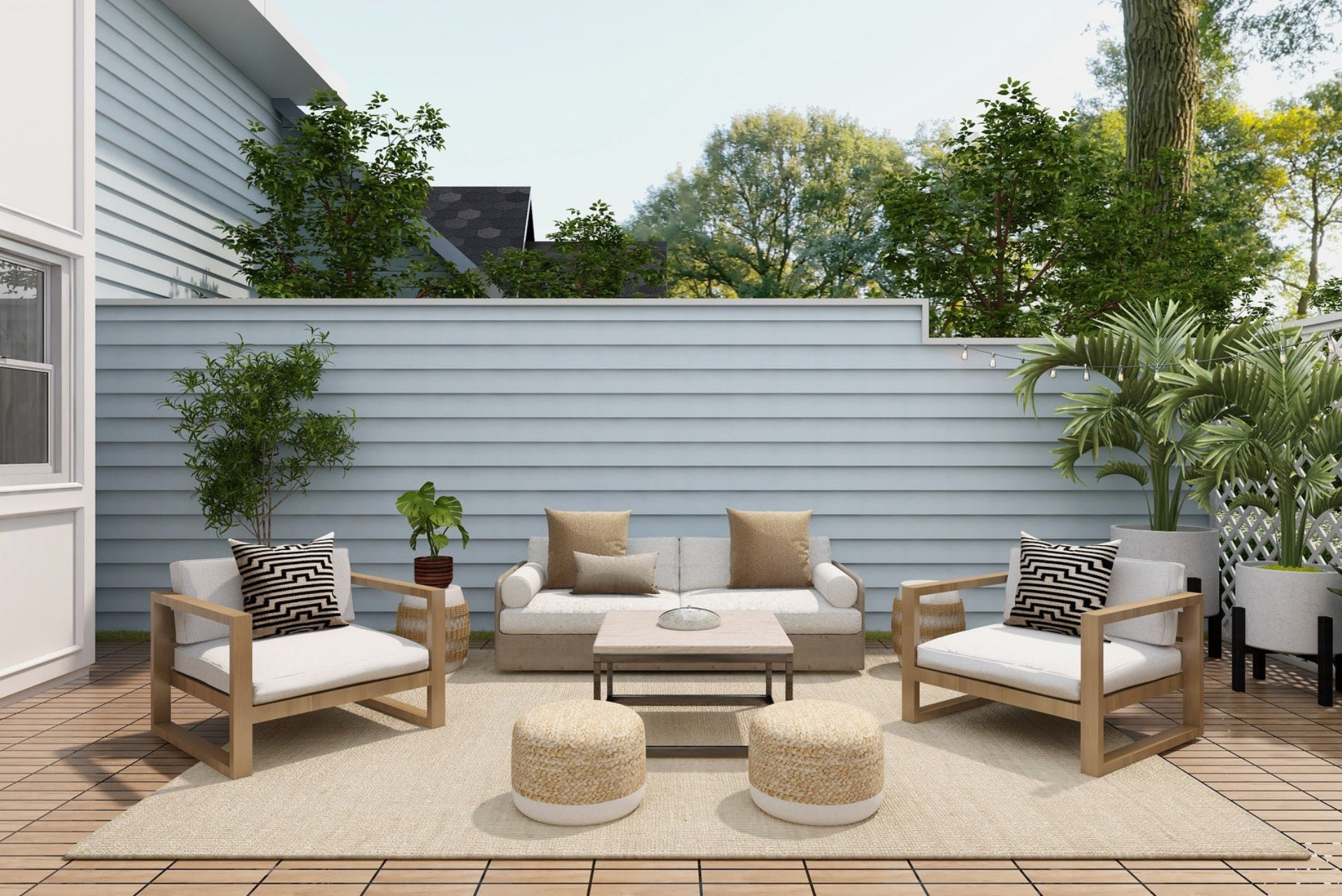 What Are the Best Outdoor Tile Options for a Deck or Patio?
26 February, 2022
by Initial Tiles
To enhance your patio or deck, there are many outdoor floor tiles with distinctive designs and impressive patterns that you might be unfamiliar with. Outdoor floor tiles not just intensify the appearance of your patio but also add to its durability and assist in easy cleaning. However, choosing the right flooring tiles for the deck is essential in order for them to survive in the outdoor environment. 
Therefore, we bring you the best outdoor tile options so that you can make an informed decision while maintaining the style statement of your house. 
The Best Outdoor Tile Options
1. Porcelain Tile - Outdoor porcelain tiles are an ideal choice when it comes to your deck or patio area. Due to their non-porous, fade-resistant, and durable features, these clay-based tiles can survive in extreme weather conditions. While they have the endurance to persist during hot summers and freezing winters, they also include water-repelling properties that prevent them from absorbing moisture. Textured porcelain tiles make the best choice since they are sturdy and durable. There are a lot of options with a variety of colours and patterns available as well.
2. Marble Tile - Natural stones like marble need sealing to improve their ability to withstand extreme weather and foot traffic; since they are less thick and more porous. In this case, slip-resistant and rough marble outdoor tile is a clever and chic choice to portray a more sophisticated look.
3. Granite Outdoor Tile - Among natural stones, granite tile is one of the best outdoor tile options that offers durability and resilience against the elements if maintained properly. Though granite tiles are strong enough to withstand any weather pressure, they must be sealed regularly to ensure longevity and prevent water penetration and staining.
4. Travertine Tile - Travertine tiles make for a perfect material for your patios due to their texture, composition, and ability to stay cool. Among various benefits, these tiles can adapt to extreme temperatures and resist the heat that allows you to walk on your deck barefoot without your skin getting burnt. 
5. Slate Tile - Slate tile comes with diverse colours and designs, rendering a unique aesthetic to your outdoor appearance. Its attributes, such as being stain-resistant and non-porous, make it a perfect choice for outside. Sealing is a must and recommended for these natural stones to retain their durability under direct sunlight and precipitation.
6. Sandstone Tile - Being a timeless natural stone, sandstone compliments both traditional and modern designs when it comes to remodelling or enhancing your patio. Coming to its colours and textures, a broad spectrum of unique warm tones and various surface textures are available and can be used seamlessly for your outdoor tiling. They give your patio an exceptional and luxurious ambience, making them a reliable flooring choice.
7. Limestone Tile - Due to its versatility, limestone is an attractive option for both indoors and outdoors. However, your concern should be selecting a material that will withstand the elements. Brushed and flamed limestones offer non-slip qualities, which must be considered over anything else when you are planning to remodel your patio or deck. 
8. Wood & Composite Decking Tiles - Wood tiles are another good option for deck and patio areas. They're crafted from hardwoods to withstand foot activity and the elements. They are one of the most cost-effective outdoor tile solutions due to their ready availability. They also come in a wider range of colours than you might think. Wood tiles may create a variety of looks, from creamy pale woods to dramatic darker woods. For better drainage, some wood tiles have elevated PVC platforms.
Composite decking is a great option for those who want to keep their decks as low-maintenance as possible. It is less prone to water damage and has a long life span. As it's made up of both plastic and wood fibres, it's called composite.
9. Step Tread Tile - These types of tiles have excellent resistance to water and offer non-slip characteristics for you and your family's safety. Suitable for both indoor and outdoor use, step tread tile is frost resistant and is ridged on the front part of the top surface to elevate slip resistance.
Different Aspects To Consider While Choosing Outdoor Tiles
1. Durability - Unlike indoor tiles, outdoor tiles need to be more sturdy and waterproof to withstand extreme weather. Since some tiles crack from drastic temperature changes, choosing a material with resistance and durability properties is the right choice.
2. Weather Conditions & Light Exposure - While high exposure to sunlight can make your patio unappealing, extreme freezing and rainfall can make your tiles slippery. And someone slipping and getting hurt while walking on your deck is the last thing you would want. Therefore, you must consider all weather conditions and maintenance instructions before buying outdoor tiles.
3. Style - Outdoor patios should match the landscape's general appearance as well as the house's architectural features and materials. Choose materials with colours and textures that complement the overall appearance of your home. 
4. Budget - One of the crucial needs of tiling your patio is to enhance its style. However, in doing so, sometimes you tend to exceed your budget. We recommend you to stick to your budget since the patio or deck is a spacious area, and you must do your research well and go through a lot of options available in the market before investing in them. Buying cost-effective tiles do not imply low-quality materials; instead, it emphasizes your research and process of choosing the best outdoor tiles for deck or patio.
5. Texture and slip resistance - Outdoor tile texture and "slipperiness" are significantly more important than indoor wall or floor tile. Usually, moisture is present on an outdoor patio, so the tile texture must be rough to prevent slipping. For outdoor tiles, non-slippery surfaces are essential, and some material options are eliminated because of this. Your patio furniture selection may be affected by the texture of the patio surface. 
When you plan on choosing the best outdoor tiles for your patio, you must also consider your taste, lifestyle, and location. Under these circumstances, it is best to refer to a professional with the best judgement on these products. Initial Tiles & Bathware is Sydney's most affordable distributor of impeccable floor tiles that has a wide range of bathroom tiles and accessories to kitchen tiles and much more.
Contact us or visit our online shopping site for more information.